Moving a large company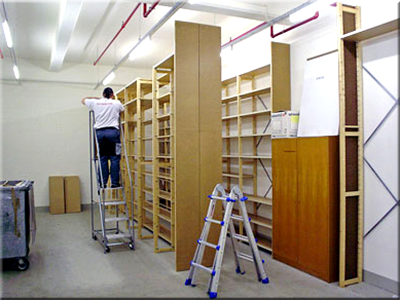 Moving large companies involves transporting various kinds of office furniture and documents that require special treatment and handling. When relocating a large company removal companies in London need to pay special attention to certain aspects, especially because they are often associated with a large-scale transport, which in addition to the standard equipment or office furniture removals involve carrying a large number of computers and other sensitive or technical equipment, for example, moving crates or cases with confidential documents, personal items or delicate product samples.
Firstly we realize the importance of taking care of the good communication between the client and the moving company so that we know the extent of the entire project, what is the real scale of the office move and are able to do the valuation ​​and provide a competitive bid, which does not increase by unexpected expenses.
We will take into account the city centre traffic, access restrictions and all potential problems that may occur.
More than this, it is also important to offer additional insurance, especially if you are moving sensitive or confidential materials. In advance we determine all the move conditions, especially if the customer has special requirements. Depending on the working hours and production plans we undertake removals at certain hours to minimize inconvenience to the staff and avoid the business downtime.
How to relocate a large firm within the London city centre ?
We know how to plan an office move taking into account every problem that may occur. All our projects are planned and completed in the shortest possible time as each additional day may reduce the productivity of the company and hence, its profits.
Therefore, it is important to determine from the beginning the exact time required for each phase.
Prior to moving a large company we perform all the preparation tasks: packaging or other additional activities like labelling crates and office furniture. For each activity we estimate how long it will take so we can inform our client and choose the best time of the day for the move.
At new offices we unpack all boxes and offer furniture assembly. If you have any questions on how to relocate a large firm from one office to another please contact us today. We are the experts you would like to work with. Check our options for office removals London.
Moving a large company within the London city centre can be a nightmare. From the experience we know what the potential pitfall may be and how to avoid most common mistakes. Moves is the city centre are for us a cup of tea.
Moving options
Another possibility is to consider moving in phases, so that the company does not lose the productivity at any time. On request we can provide different options:
Moving in one day
Evening move
Night move
Moving in phases
Moving over the weekend
All large companies we had moved have appreciated our good work and dedication. We always feel empathy with the companies we are relocating. Even if you are moving your firm overseas we can help. Our shipping from London services are very flexible and cheap.
It helps us to understand how the business works. It gives us a good expertise to decide what we can do.
What's more for all firms that want to move with us we offer free advice and consultation. We listen to our customers and always come up with a few options on how the move of a large company can be approached. It is worth mentioning that all options can be amended in accordance to new requirements or new business plans.
We are also very flexible and adapt very easily to any changes. For example last time one of the companies using our services had to move out but could not move in due the delays caused by builders. Luckily we were able to offer our business storage facility and complete the move 1 week later.